THE UNIVERSAL OUTDOOR STORAGE UNIT
StyleOUT® STORE IS ALWAYS WITHIN REACH
The StyleOUT® STORE outdoor storage unit is designed for storing bicycles, prams and other items you want to store outside of your home without sacrificing safety or style.
THE UNIVERSAL OUTDOOR STORAGE UNIT
StyleOUT® STORE IS ALWAYS WITHIN REACH
Are bins an issue in your beautiful garden? We have a perfect solution.
EASY ACCESS

Park your bicycles in a quick and simple way

SPACE UTILISATION

Despite its small dimensions, it provide room for at least three bicycles.

LOCKING

A built-in lock keeps your stored items safe.

DESIGNED TO LAST A LIFETIME

High-quality materials and production ensure long-term use and easy maintenance.
EASILY ACCESSIBLE BICYCLE SHED
The StyleOUT® GARAGE is a bicycle garage characterised by its overhead
door that provides easy access as well as protection for your bicycles.
The garage will add style and functionality to your yard.

STYLEOUT® GARAGE MIDI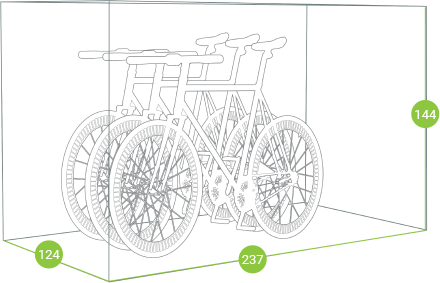 STYLEOUT® GARAGE MIDI
237x124x144 cm
(suitable for 3 bikes)