StyleOUT Linis 4x120 D0
Skip to product information
Configurator
No bins: 4
Bin size: 120l
Color: 7016
Door type: 7016
Price:

Regular price

Sale price

€4.140,00

Unit price

per

Sale

Sold out

Neto: €3.365,86 + 23% VAT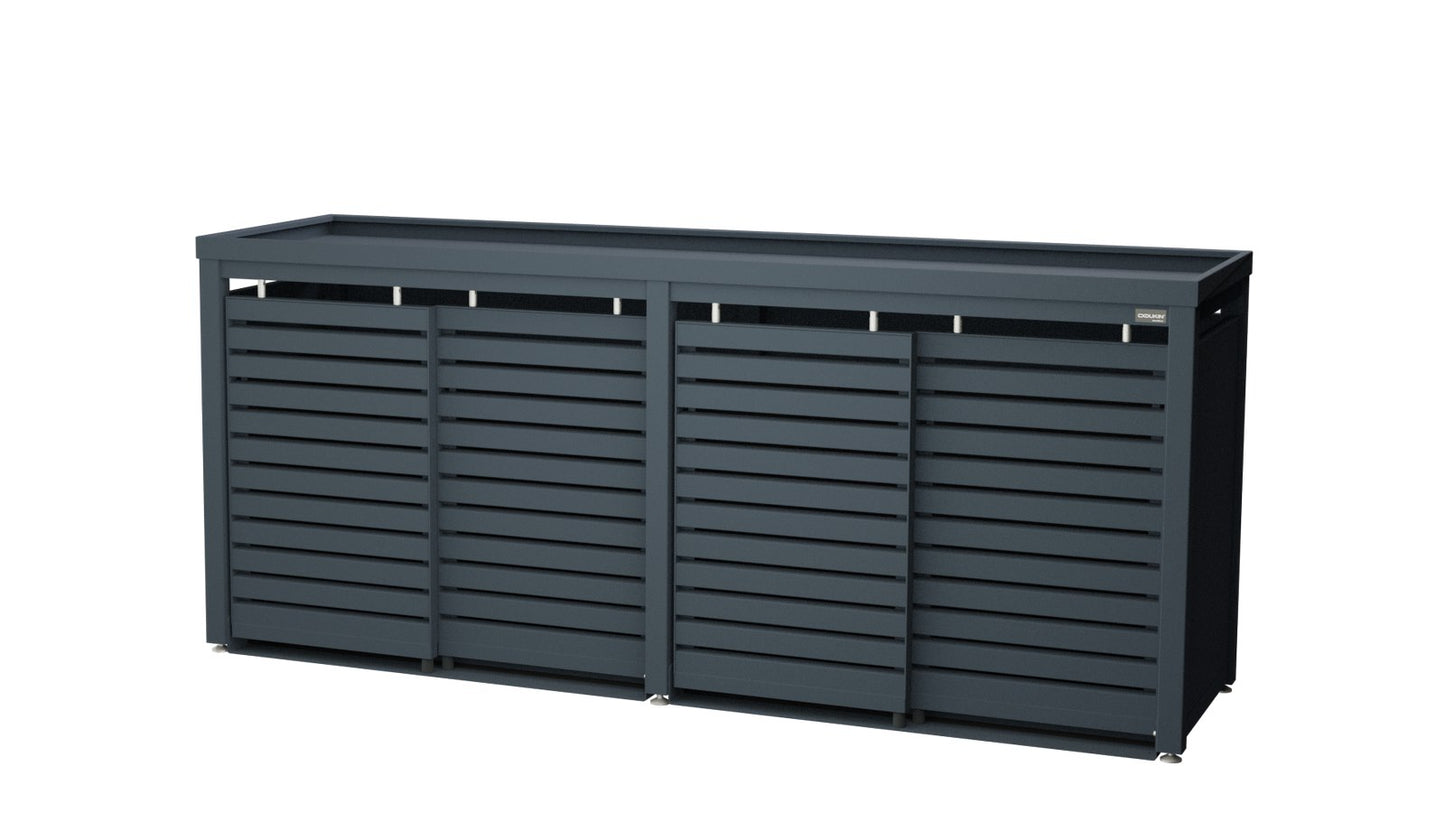 StyleOut 120 Bin Enclosure
is the final touch to your garden.
zero maintenance
permanent quality
easy to use solutions
No more issues with your bins.
StyleOut 120 Bin Enclosure
is the final touch to your garden.
zero maintenance
permanent quality
easy to use solutions
No more issues with your bins.
Item Description
Construction:
- Frame is made of square steel tube (60 x 60 mm),
- Rear and side wall elements, lamellar doors, catch loops for convenient operation of the bins and plant roof (height 60 mm) are made of aluminum.
- Wiper brushes on the sliding door suspension for dirt and dust protection. - Cabinet is without partitions.
- Screws, leveling feet,… are made of stainless steel (quality / material W.Nr.4404)
Surface / color:
- All steel parts have e-coated primer and powder-coated secondary layer in DUKIN standard colors. Interior of e-coating protected (steel) parts is additionally coated with wax
- All aluminum parts are powder-coated in DUKIN standard colors.
Installation:
The product is ready for installation on foundations at a location at +/- 0 mm according to our plans. Delivery including floor mounting material. The base must be flat and fit the size of the product. The base must be paved with load-bearing, optionally with slabs, paving of composite stone with a well-compacted, load-bearing substructure or foundation.
Closing:
The doors are opened using a low-noise and everlasting sliding mechanism (without a lock as standard).
Drainage:
Takes place via the plastic tubes installed inside of 4 supports of the main structure frame.
Delivery:
Product is delivered fully assembled (unloading on site). A forklift is required for unloading on site.
Why choose Dukin?
Powder coating over e-coat provides exceptional benefits to your metal products, such as:
Durability:
When you add inner e-coating to your powder-coated products, you'll ensure they last longer and stand up better to harsh environmental conditions. E-coating is known for its exceptional durability. It resists both outdoor elements and indoor factors like household chemicals. This outstanding performance makes it an increasingly popular choice as an added layer in powder-coated applications.
Coverage
E-coating is the better option of the two for accessing hard-to-reach parts within your metal products. However, you might still want to add the decorative touch of powder coating. For a combination of looks and all-encompassing coverage, you can have your product e-coated, cured and then powder coated for a stylish finish.
Corrosion and UV protection
E-coats are known for their superior corrosion resistance, which is one of the main reasons why so many companies choose the process for industrial applications. However, since most e-coats are not UV stable, they are most often used only as primers or finishes. Pairing your e-coat with a top layer of UV-resistant powder coating ensures both the corrosion protection of e-coats and the UV protection of powder coating.
E-Coating
E-coating is more similar to electroplating than powder coating. With e-coating, the substrate is immersed in a bath that may consist of paint, epoxy or other water-based solution. An electric current is then used to attract the particles that are suspended in the liquid solution and deposit them onto the surface of the substrate. The electrodeposition continues until the desired level of coating thickness is achieved, which can be regulated by increasing or decreasing the voltage level. The coated substrate is then cured in an oven to promote cross-linking.
Powder Coating
While e-coating is considered to be a "wet" process, powder coating involves the application of a dry powder consisting of a precise combination of epoxy resins and various curing agents. A spray gun is used to electrostatically apply the particles onto the surface of the substrate. The fact that the particles are electrically charged is what causes them to adhere to the surface. Curing is also used as the finishing step in the powder coating process. Curing causes the particles to melt and also serves as the catalyst for a chemical reaction that produces the desired finish.